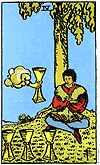 After you finish your celebration and dance, take a stroll up a little hill....take a seat on the hillside, under a tree.....and as you sit under this tree, can you name now to yourself 3 things which you are thankful for in your life?
..............Let the feeling of gratitude for these things sweep over you.
A 4th cup is being handed to you, and you hear yourself saying, "I accept."