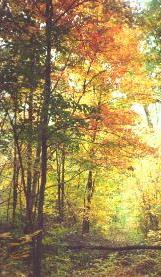 The peace and serenity of the woodland,

Especially in the fall
Is an experience in life that the mind and soul
Are compelled to recall.
The echo of a wolf howling far,
Far away somewhere along a river
Touches the sense of your soul
And causes you to be still and consider

The silence of peace and nature in harmonic embrace,
The majestic stillness of trees,
Wistful movement of air, a dignified place,
Makes the inner self give up pressure and stress
That life can impose
Makes the heart and soul unite in peaceful compose.

The bridge between life and death
Is a mystery solved by no mortal man,
Yet our senses know the presence of other souls
We do not understand
The link between this life's time and space
And some other is not for us to know,
But a heart, mind, and soul at peace
Will prepare us for where we must
go.
The uncertainity, the solitude,
Moving forward to the end ,
The quiet feeling of despair,
We cannot hope to grasp, but we know we will be there.
So like the solemn oaks in the timberland,
Like the gentle brooks in our mind,
Be strong, be good and be kind.